Interim Leadership
The old adage 'change is constant' has never been more true in healthcare. Staff leave, new systems are implemented, management changes, workflows are augmented, consolidations and acquisitions occur, new initiatives are unrolled and a host of other regular shifts occur. If you are like most healthcare organizations, these are the times when you need interim leadership support.
For decades, Hayes' has been partnering with healthcare organizations to bridge the gap from a vacant position to the hiring of a new, permanent employee. But that's just one small part of our interim leadership support. We view each assignment as an opportunity to help set up your organization for future success, which is why we provide the necessary tools and insights at the end of each engagement.
We begin each engagement by making sure we understand your needs and then assign the consultant with the defined skill set and exact experience needed to become a seamless member of your management team. This careful alignment combined with the fact that our consultants come from healthcare management positions in organizations like yours, is why it is rare that they are not offered the job they are supporting.
Our consultants can provide interim leadership in a variety of roles, including:
Chief Information Officer
Chief Operations Officer
Chief Financial Officer
Vice President or Senior Vice President of Revenue Operations
Department Senior Manager, Manager or Assistant Manager
Practice Director or Practice Managers
Director of Revenue Cycle Operations
Advisor or mentor to manager level positions
How do we define a successful engagement? Simply, we define interim leadership success as a smooth transition and improved operations. To assure a smooth transition, our interim managers help conduct interviews of candidates, fine tune job descriptions, create a roadmap for the new manager, and provide an assessment that identifies opportunities for organizational improvement.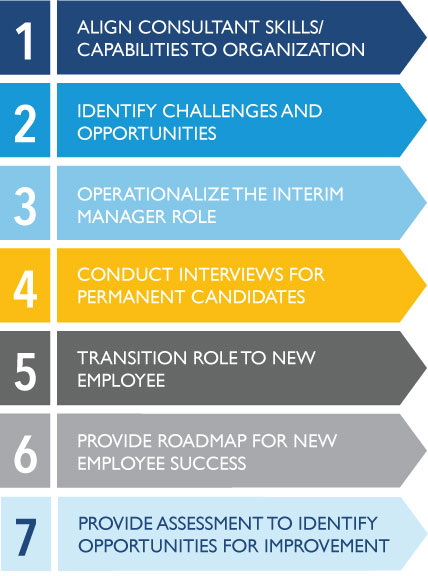 Our experience with Hayes was excellent. We hired two Hayes consultants to provide interim revenue cycle management. Both consultants were great additions to our team and provided a seamless transition through their expertise and healthcare knowledge. We appreciated their can-do attitude and willingness to pitch in and help wherever needed.
Karen Simonenko