MDaudit Professional
There are numerous types of audits that threaten your revenue, each with its own set of requirements. Quality improvement organization (QIO) audits, Comprehensive Error Rates Testing (CERT) audits, Medicaid Integrity Contractor (MIC) audits, and Medicare Advantage Plan audits are just a few of the possible audits that your organization may encounter.
Establishing a compliance and auditing program for your physicians' practice is crucial to managing your organizational risk. And yet it can be challenging without the right tools.
MDaudit Professional was designed to simplify your auditing and monitoring efforts. By providing an easy to use workflow, you can audit your providers, determine their individual risk score, benchmark providers against their peers, and generate management reports that pinpoint level and area of risk for intervention.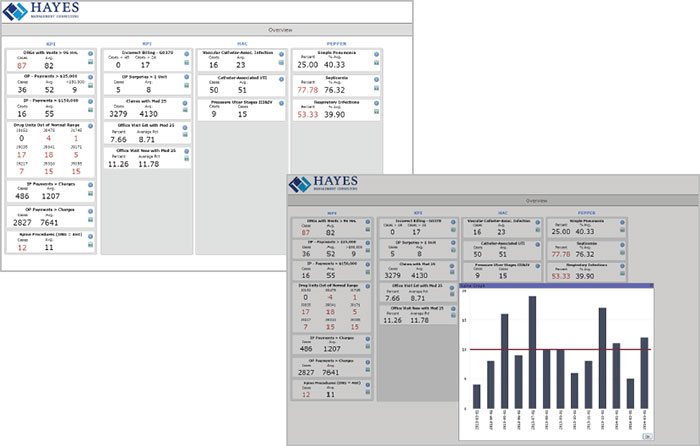 Use MDaudit Professional to examine for over-billing and provider billing patterns that are above the CMS national norm.
Other features of MDaudit Professional include:
Risk-based audit schedule – allows you to maintain your audit schedule for all providers in one central location
Prospective and retrospective view – extracts both prospective and retrospective charge data for comprehensive view of risk
Random case selection – generates random case samples based on flexible case profiles
Refund and rebill requests – generates and tracks refund and rebill request and amounts
Standard and customizable reports – produces standard provider and management reports and allows you to generate combined report with multiple practices
Auto alerts – if a provider falls above or below normative data you are automatically alerted
Worksheet creation – automatically creates worksheet so you can record your auditing findings
Real-time monitoring – you can view the number of audits in progress, outstanding actions and further refinement of processes is needed, all in real time.
But perhaps most importantly, MDaudit Professional allows you to perform audits easily and quickly so you can mitigate your risk more effectively.
To request a demo or learn more about MDaudit, contact us.
Need to submit a ticket with the client Support Center? Click here.