MDaudit Enterprise
The intelligent solution for a risk-based world
Changes in the healthcare industry are putting more pressure on oversight responsibilities for hospitals and physician practices. To avoid financial penalties, reimbursement paybacks and tarnished reputations, you must be vigilant in managing your organizational risks. You need to be able to easily identify risk and outliers, audit for further investigation and initiate corrective action.
We have the answer.
MDaudit Enterprise is a single platform for all your compliance and auditing needs. The platform is designed to provide seamless continuous monitoring, anomaly detection and workflow automation, all in one closed-loop platform.  It provides you with all the tools you need to move from risk identification to risk management without having to switch between multiple applications. MDaudit Enterprise not only provides a single solution for today's auditing needs, but provides a complete toolset for hospitals and physician practices to move to a risk-based management approach.
From Risk Identification to Risk Management

MDaudit Enterprise Key Benefits:
Supports root cause analysis with actionable reports to fix underlying causes of error resulting in fewer false positives and improved corrective action
Provides continuous monitoring of risk areas to uncover risk issues
Benchmarks performance against peer organizations to enable continuous improvement
Detects potential costly anomalies for corrective action
Improves productivity and optimizes limited resources through work flow automation
Supports risk-based compliance and revenue management programs
A risk-based approach allows you to increase staff productivity, assess organizational risk and assign resources judiciously. MDaudit Enterprise's user-customized automated process enables continuous monitoring of billing data and remits allowing your compliance and finance departments to drill down, identify, explore and respond to both risks and outliers. Your revenue cycle team can use the same data to uncover lost revenue opportunities.
You can analyze issues that pose potential risks by setting up your own case searches. If you identify and correct problems, you can also set up ongoing monitoring to alert you if the data begins to veer out of your established thresholds.
Even if you are shifting to a risk-based model, you will likely want to continue to monitor and review new providers. MDaudit Enterprise makes this easy by setting up new providers as a risk area. The platform recognizes billing from new providers and automatically flows it into a risk area so you can review, audit and educate as needed. MDaudit Enterprise allows you to easily examine each new provider as they begin their relationship with you to establish an upfront, sustainable documentation process.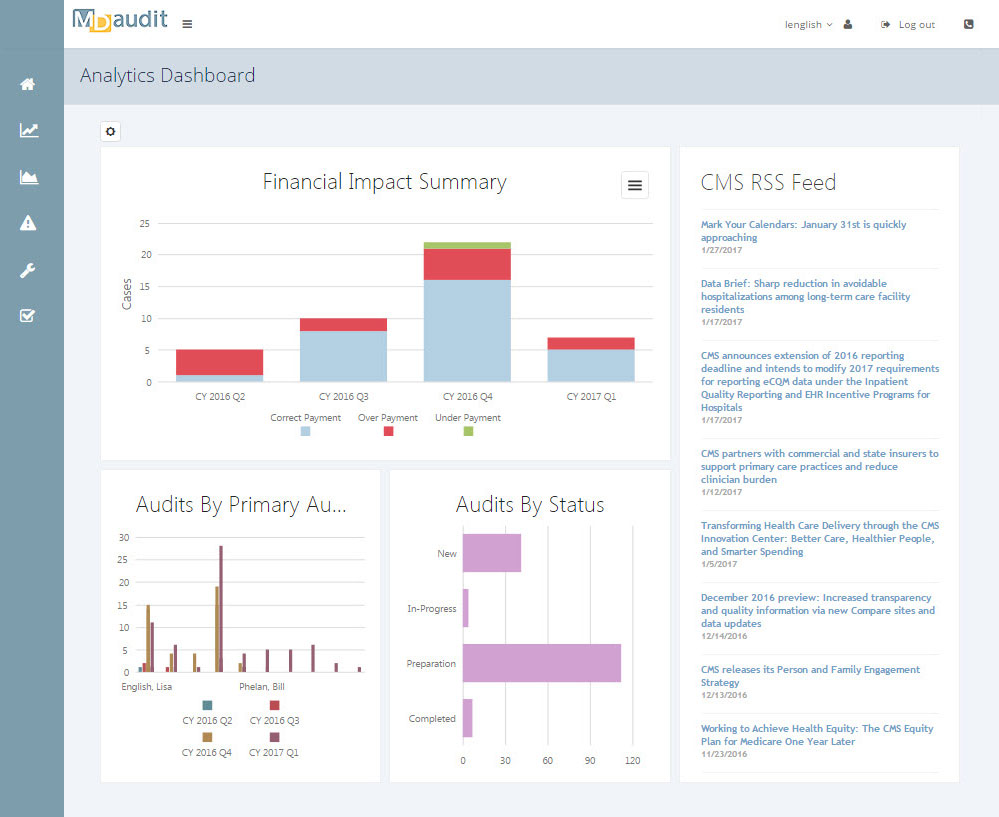 MDaudit Enterprise allows you to track financial impact and audits by status.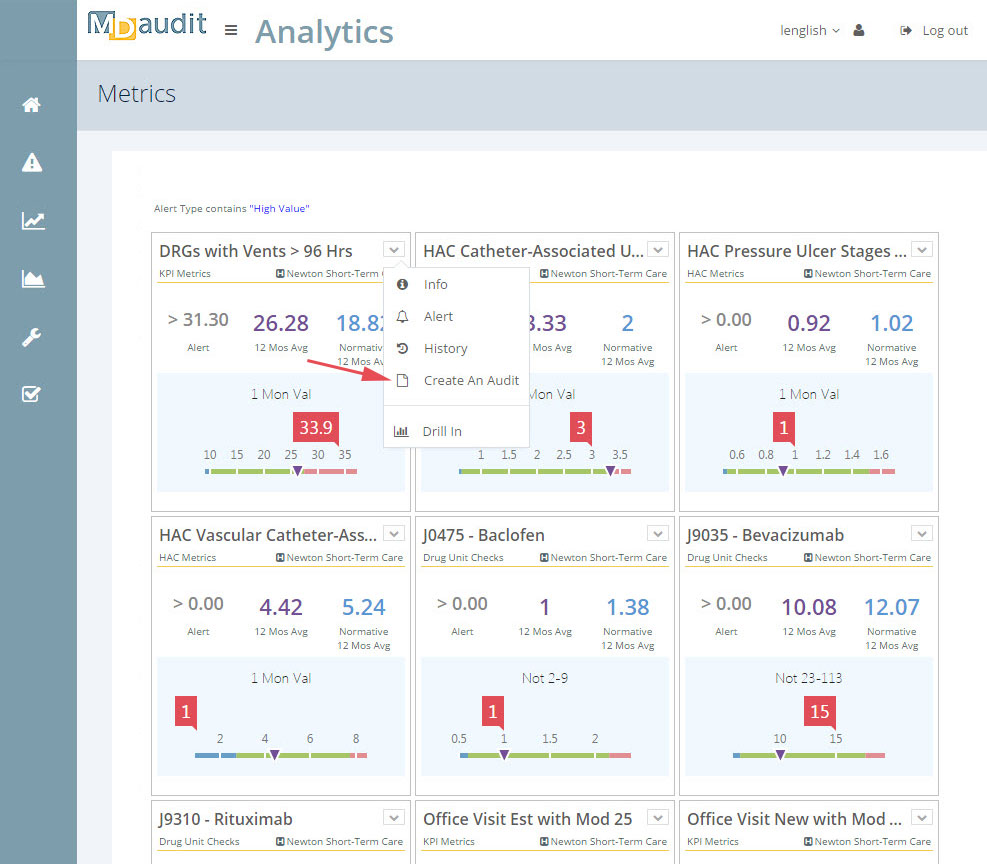 You can drill down into a wide variety of metrics, like "Vents Over 96 hours" and automatically create audits to understand if this is a risk area for your organization.