MDaudit Analyzer
MDaudit Analyzer is the next generation of compliance software.  It allows you to mine your organization's billing data to identify compliance risks. The analytics provided include key metrics focused on current risk areas, customizable provider rankings and comparisons focused on E&M and modifier usage.
MDaudit Analyzer was built because we understand that it's impossible to conduct full chart review audits on every potential risk. The metrics found in MDaudit Analyzer allow you to leverage your billing and remit data to monitor key hospital and provider risk areas and hone in on provider billing patterns which stand out when compared to peers. This in turn helps you prioritize your audit focus and to extend the number of risk areas you can monitor.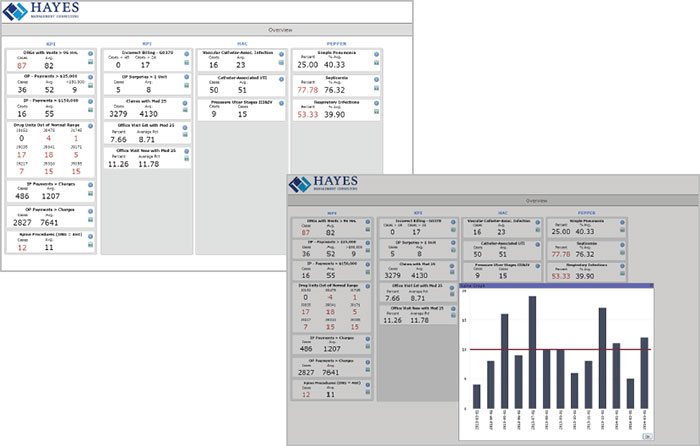 MDaudit allows you to choose which risk areas to track, display trends and drill down to individual accounts.
Key Features and Benefits:
Your data, your metrics – leverage your billing data to construct key metrics for compliance risk areas
Customization tools – Build your own KPI metrics using our technical staff, or train your own analysts in the customization tools
MDaudit Customer Community – Engage with the MDaudit customer community, tap into the metrics library which continues to grow and evolve based on community input
Highlight Risk then Dive Deep – With MDaudit, pull sample cases for identified risk areas and capture results of your detailed chart review
Executive Reporting – Summarize audit results to provide real time feedback to executive team