Comprehensive Revenue Integrity Support Program (CRISP)
Optimize every element of your revenue cycle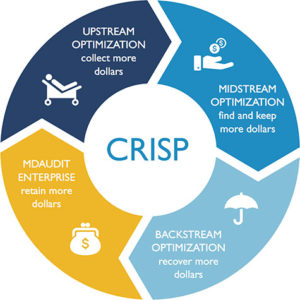 Revenue integrity means different things to different people. To us it means helping organizations achieve operational efficiency, compliance adherence, and maximum reimbursement across the entire revenue stream. All too often healthcare organizations focus on one aspect of the revenue cycle versus taking a holistic view.
Our Comprehensive Revenue Integrity Support Program – CRISP – marries our industry leading revenue integrity software, MDaudit with the financial acumen and deep seated experience of our revenue cycle experts to help organizations collect, find, recover and retain more revenue dollars throughout the entire revenue stream.
CRISP has a demonstrated history of proven return on investment. Hayes has helped healthcare organizations realize 20 to 40% improvements in cost reduction, revenue generation and operational efficiency, saving them millions of dollars.
The complete revenue integrity solution
CRISP enables you to review every aspect of your revenue cycle from patient reporting, through the documentation and coding of each encounter, to bill submission and revenue collection.
Our CRISP experts who have on average 18 years of frontline experience, are former Vice Presidents of Revenue, CFOs, and Directors at healthcare organizations. This real-world expertise allows us to ensure that your processes and systems are effectively safeguarding the integrity of every component of your revenue stream.
We've made our revenue integrity program flexible so you can choose to leverage all or part of it. We can assess and optimize your entire revenue cycle – upstream, midstream, backstream –or simply focus on the streams that present your biggest challenge. CRISP can also provide you with interim leadership to fill gaps in any gaps in your management structure while driving operational improvements.
Industry-leading revenue integrity software
MDaudit Enterprise is the industry's premier automated revenue integrity software solution. Our closed-loop, cloud-based platform supports the revenue cycle's midstream and backstream by identifying areas of risk and preventing revenue loss. Through continuous monitoring you can drive ongoing performance improvement of billing, coding, and collection behavior.
MDaudit Enterprise enables anomaly detection and minimizes documentation and coding errors, allowing you to retain more of your revenue – which is why one in eight providers in the U. S. are audited using MDaudit.
[1] Hospital Cost Reduction Efforts See Hope at The End Of New Platform, by Nicole Fisher, Forbes, January 12, 2015
If you are interested in learning how you can achieve increased collections, improved revenue recognition, better revenue recovery and retention, contact us today.