Online Training
Hayes provides an online training program focused on the GE Centricity Practice Solutions system. This 40-hour training course was developed out of a request from several clients and its goal is to help organizations improve their effectiveness and efficiency with this EMR.
Description of Training:
The module follows a patient visit from A-Z in the Centricity EMR. We start at Scheduling, go to Registration, Eligibility Verification, Check In, and Clinical Workflow. From there, we go back to each step of the revenue cycle stream as the visit moves through billing, collections, and payment posting. We will touch upon the key components within the billing cycle, including electronic filing of insurance claims and the EDI lifecycle.
Training goal: The training will provide management attendees with working knowledge of the Centricity system capabilities with a focus on the revenue cycle components so that they can understand and discuss opportunities for future-state workflows. It is also intended to provide knowledge to close the gap between clinical and revenue cycle functions as they relate to a patient visit. This is not an introductory training, but rather is designed to facilitate discussions regarding current and future-state workflows. Upon completion of this course, attendees will have a solid working knowledge of the Centricity build, application structure, billing and clinical workflows, and understand how a patient is added and moved through the entire visit lifecycle.

Meet your Trainer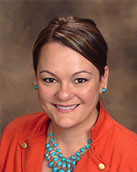 Angela Hunsberger has been delivering Centricity training for more than eight years and has 16 years of experience in healthcare. She developed the curriculum for this training based on her expertise and understanding what users need to be successful.
Hear what attendees are saying about the online training:
"This training was helpful in my role because I am usually the first person the staff contacts when there is a question or issue with Centricity. It was also very important to understand the entire life of a patient visit for quality (bad data in, bad data out). I was able to discover and correct several processes, such as verifying insurance and choosing the correct allocation sets. Maybe most importantly, was the training increased my familiarity with where data is located. I build and run many reports. Successful and accurate reporting depends on your ability to understand where exactly the data fields pull from. I can see data come through in a report and know exactly where in Centricity that data is located. "
"I just knew bits and pieces before. The training brought everything together. This helps understand the perspective of every staff member and their role with Centricity when they bring up problems, issues, concerns etc. If a new staff member joined, I could give them general training no matter what his or her role. "
"It was nice to do training for a few hours at a time so that it was not overwhelming. It was much easier to retain as well. The life of patient visit is what I feel really drove many practice management projects. It made us aware that there was a need for the cleanup and a deeper look into the billing workflow. "
"Angela provided an objective view of the process and workflow. Her knowledge of CPS plus experience with other businesses and organizations provided options that we didn't know existed."
"I found the Life of a Visit training to be extremely informative. Although I have worked with the system since 2006, I came away from the training having learned new tools that I use on a daily basis. Even though it seems like a small thing, being shown that you can customize your toolbars has streamlined my workflow tremendously.  I have taken the knowledge that I gained from the training and shown employees who did not attend some of the shortcuts and they appreciate the time saving tips very much. You are extremely knowledgeable with the system and very adept at answering questions regarding all aspects of the system."