Clinical Optimization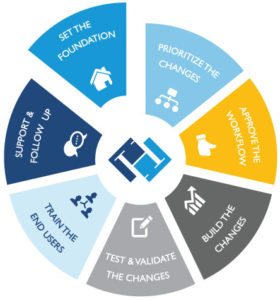 Clinical optimization can mean different things to different organizations. It is often defined simply as improving the functionality of your electronic health record (EHR). To us, it means more than that. We know from working with healthcare organizations for more than twenty years, that improving the EHR functionality is just one part, albeit an important one of any optimization project. But in order to gain true efficiency, workflows and processes also need to be carefully analyzed and mapped out for improvement.
Our consultants are experts in identifying all opportunities for greater efficiency so that patient care is improved, data access is streamlined, clinician collaboration is facilitated, processes are refined and outcomes improved. How do we do it? Our consultants bring real world experience and a proven methodology built upon decades of experience into every engagement. We are "technology diverse" and offer proficiency in a multitude of EHRs, including Epic, Cerner, McKesson, GE Centricity, Allscripts, NextGen and a host of other EMRs.
Our business is built on the idea of "our client's goals are our goals". We spend the time to understand your goals and carefully align them with our deliverables, whether it be improved user efficiency, greater collaboration among staff, increased productivity, greater patient satisfaction, improved physician adoption or improved clinical outcomes.
True clinical optimization is an iterative process that is continually refined.
10 Signs You Need Clinical Optimization
Your clinical operation is bogged down with workarounds and ineffective workflows
Your patients are unhappy and your physicians are disgruntled
You're using only a fraction of the features of your EHR/EMR system
Processes are not standardized or documented
Your EHR/EMR is not aligned with your strategic goals
Getting to data is cumbersome and time consuming
There's a lack of collaboration between clinicians
Information is not coordinated between departments
You're struggling to meet the increased demands of the new healthcare environment
You feel you're falling further behind the competition